Case study 3 – Bill Oddie's Bird Food Recipes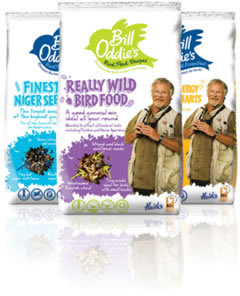 The Bill Oddie's Bird Food Recipes retail brand was launched in 2004 by Haith's, a long-established business largely operating in mail-order bird foods. Given Haith's historic expertise in mail-order only, the move into a retail brand meant they needed considerable support and this is something Roger Hughes has been able to fully deliver on.
Roger started working with Haith's several months after the brand was launched so an element of back-tracking was needed to fully get the offer on the rails. In addition, the brand was originally intended largely as a garden centre product, whereas Roger could see there was huge potential to take the brand into other retail sectors – e.g. grocery.
The initial work concentrated on:
Putting in place a clear brand strategy
Putting in place a supporting marketing strategy
Creating marketing communication materials – both B2B and B2C
Helping the senior management team learn and embrace new brand and marketing-related skills
With the above in place, Roger went on to:
Support in the creation of a new website with both B2B and B2C sections
Support in the project management of successive stands at the BBC Gardeners ' World show at the NEC
Support in the project management of successive stands at the GLEE trade show at the NEC
Handle trade and consumer advertising
Handle trade and consumer PR
Working with the acclaimed and award-winning agency Elmwood, project manage a new identity for the brand and new packaging
Project manage events where Bill Oddie himself was involved
The results of all this work are indeed impressive:
Huge year-on-year sales growth which is massively over market growth
A commanding and recognised position in the product category
Retail accounts which include Asda, Wyevale, Pets at Home, Morrisons, Wilkinsons and literally hundreds of independent garden centres
In fact the level of sales achieved has been so great, that, in July 2008, Haith's moved from their home for more than 70 years to a new purpose-built facility. This move allows the company to meet the ever-increasing demand for its products.
Roger has also helped Haith's with a sustainability policy and personally wrote the draft of this.
Contact us now to find out more about how we could help and support your business.
T: 01463 871988
or complete this form and we will be in contact very soon