The importance of customer reviews in local marketing strategy
May 2014
As ever, my monthly blog isn't here to tell you all the technical stuff you need to know about a certain digital discipline – in this case local SEO (search engine optimisation). What it is here to do, amongst other things (including a platform for me to let off steam now and again), is to help SMEs keep up with key issues which affect the performance of their marketing and therefore the success of their business.
SEO has been a recurring theme for this blog since I started it about 5 years ago, and rightly so – there are few businesses which online search isn't important to. What has kept the topic so alive across the 5 years is the ever-changing algorithms of the main search engines (Google being the biggest with about 67% of share), and right now customer reviews are a major factor in determining organic results which feature Google Maps.
This screen grab shows the results for 'coffee shops Edinburgh' on Google Maps – which show results from Google Places for Business – and it's no coincidence that the one at the top of the list has a high number of reviews and a typically higher star rating.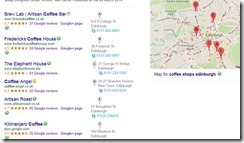 Of course there are a hundred-and-one other things that the Google algorithm looked at in order to make a decision here, but there's no question that reviews figure very, very highly. And the reason for that is simple – Google does not see your business as its customer (unless you're paying for search results with Adwords) but the person searching, and therefore it takes the view that what folk think about your business is very helpful to that person searching. So just the same as Tripadvisor.
Just for clarity here, appearing on Google Maps as part of an organic search result is obviously only important when you want customers to physically come to you. If, for example, you sell board games via Ebay and operate from a lock-up, then you won't need to bother. (But you will of course need to bother to make sure you figure in search results for businesses selling board games online.)
At a base level, registering your business with Google Places for Business is simple enough. However, maximising its value in SEO terms and making it a component part of your wider SEO strategy and plan is a tad more complicated. One of the reasons for this is that there's also Google+ Local to consider (Google+ being Google's social media platform) and this also plays a part in SEO performance. Partly for this reason, my advice to any SME owner is that unless you have the understanding and skills to implement SEO in-house then get an outside expert to handle it for you. Yes this costs money (perhaps £40-£50 per hour dependant on where you are in the UK) but it should be money well spent.
But actually the most important thing a business owner can do to improve their search ranking is to deliver on their brand promise. So if you own a coffee shop and you reckon you serve the best coffee in town and provide a relaxing place for punters to take the weight off their feet for 20 minutes, then make sure you deliver those things consistently. Because then, obviously, your customers will experience that consistency in delivery and just might tell the world about it online.
Contact us now to find out more about how we could help and support your business.
T: 01463 871988
or complete this form and we will be in contact very soon